Click on the Left Side Menu Selections to go to a different Section.



On the various sections you will be able to:

1.See National Sojourner Membership Requirements;

2.View some photos supplied by fellow Sojourners.

3.The Purposes of National Sojourner's

4.View the Ft. Trumbull Heroes of '76 Activities


We also list favorite links to Sojourner and related Masonic and Military sites of interest.
Please email us with your comments and/or suggestions. We appreciate them and will respond.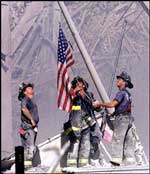 Sept.11, 2001 FLAG BUILDERS!